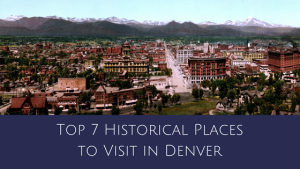 It's no doubt that Denver is a thrilling place to live. The Mile High City is one of the top 20 most populated cities in the U.S., and it's overflowing with cultural events, carefully crafted brews, exquisite food, and year-round outdoor activities. With a rich and intricate history going back to its founding in 1858, the city still hints at its transformative past. Today, there are many sites and resources to help you get a taste of that history as you move about the city. Since the city's early beginnings, it has housed more than 300 landmarks and over 50 historical districts. Even locals are bound to find new places to visit and learn more about their city's heritage. Resident or tourist, here are the top 7 historic spots to check out while in Denver:
The first item on your list should be to pay a visit to the Colorado State Capitol building. With a 272-ft.-high dome covered in shining gold leaf, this spectacular building is a sight to behold. It was built from 1886 to 1908 and made to resemble Washington D.C.'s U.S. Capitol building. When walking around, you can see memorials dedicated to patriots who have served the country and state as well as carved statues at the west entrance. Inside, you'll be able to gaze at the colorful stained glass windows as well as wainscoting made of Colorado Rose Onyx, a priceless rose-colored stone. The whole world's supply of this precious stone lies here, as no more has been found since. Keep an eye out for hand-painted renderings of U.S. presidents inside as well. They offer free tours on Mondays through Fridays from 10am to 3pm where you can gain more information along the way and gain access to the Senate and House of Representatives chambers.
The high trafficked Union Station is another stop to add to your list. This Beaux Arts style building was built in 1894 and remains one of the hottest spots in Denver today. A bustling transportation hub and railway station, this gathering space also hosts a vast array of Denver's best restaurants and bars. Visitors can even book a room and stay for a weekend at The Crawford Hotel, a luxury hotel right in Union Station. Such a vibrant and energetic spot is not to be missed on your historic tour through Denver.
The "Unsinkable Molly Brown", as many know her, lived in this home in the 1880s. Margaret "Molly" Brown was an activist, philanthropist, and passionate woman who survived the Titanic. Her home is now a museum where visitors can come and learn her unique story as well as gain a sense of the Victorian era in Denver. Historic Denver saved the home from demolition in 1970 and restored it to its Victorian style origins. Today, you can visit one of the most intriguing Denver landmarks and get a guided tour, to learn about the incredible life of Molly Brown.
The oldest block in Denver is Larimer Square, where the city was founded in 1858 by General Larimer, who originally named it Denver City. In 1861, this became Denver's main street. The city was originally named after James Denver, the Kansas Territorial Governor, after both of the Denver City and Auraria settlements had joined together. There are even several tunnels in the area that were used by politicians and other notables to visit the brothels in the city's earlier days. Today, visitors to this square can find a trendy area full of gourmet restaurants, lovely cafes, and interesting boutiques, with a trademark canopy of lights above.
If you're searching for a sense of the history of this great city, you should check out the D&F Tower. Completed in 1910, this was the highest building west of Mississippi River in its day. It was a major focal point for the Daniels & Fisher Department Store and remains one of Denver's most distinct landmarks today. With a 20-floor-high clock tower and a 2½ ton bell above its observation deck, visitors can still hear the bells toll frequently. The tower is modeled after The Campanile (St. Mark's Bell Tower) in the Piazza San Marco in Venice. Historic Denver hosts scheduled behind-the-scene tours that you can book to gain a deeper sense of its past.
The urban park had its beginnings in 1919 and still continues to be a cultural hub of Denver today. Civic Center Park includes some of the most prominent government buildings, art, and culture in the city. Like a mini paradise in the midst of the busy city, visitors gather to see beautiful gardens, fountains, and statues, as well as to experience the occasional festival or parade. Nearby, you can spot the U.S. Mint, built in 1904 to resemble the Palazzo Medici-Riccardi in Florence as well as the Byers-Evans House, built in 1883. From the park, you can see the Denver Public Library as well as the stunning Denver Art Museum. Civic Center Park is a great place to come and gaze at numerous pieces of public art.
Last on the list is the Red Rocks Amphitheatre. This landmark is technically 10 miles outside of Denver, but is owned by the City and County of Denver. Part of the Denver Mountain Parks system, this is the only naturally formed acoustically perfect amphitheatre in the entire world. It took over 200 million years to become the visual and acoustic splendor that it is today. It's first performance was in 1906, and it continues to host some of the best shows today. If you can't make a concert, at least journey out and check out the Visitor Center where you can watch a short film on the geologic and musical history of Red Rocks, check out interactive educational displays and Performer's Hall of Fame, and even join one of the daily tours during their June – Oct season. This area is also quite popular for its remarkable hiking and biking trails.
At one of its many historical sites, the past and present blend together to form the Denver we know today. Many of the historic sites and buildings are listed as official landmarks and some are included in the National Register of Historic Places. Starting as a a gold rush settlement in 1858, the city has come a long way. Today, it's the 19th most populous city in America, and it still works hard to preserve the history from which it was created.