When exploring Denver for the first time, you'll probably notice distinguishable neighborhoods in this vast city. Spending some time in each one will give you a better overall picture of what it means to live in Denver. Capitol Hill is an urban neighborhood with the perfect balance of grit and charm. This diverse neighborhood is home to many artists and bohemians, and it's the most densely populated. Located in East Denver, Capitol Hill, or "Cap Hill", is really the heart of art and history in the Mile High City.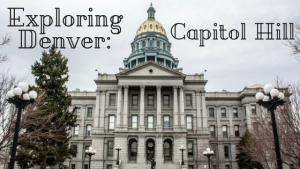 As you can probably imagine, the history of this neighborhood is defined by the Colorado State Capitol building. Colorado began the gold-domed building's construction in 1867, when Henry C. Brown donated about ten acres of land to be used as its site. Around the 1880s and 1890s, Capitol Hill was discovered by the wealthy and began to transform with each new extravagant mansion built along its streets. The streets themselves changed from dull and bare roads to picturesque tree-lined boulevards. By the 1890s, Capitol Hill became one of the most desirable neighborhoods in Denver. Today, people can walk the streets of Capitol Hill and gaze at the grand architecture that has been actively preserved.
A visit to this neighborhood is best done on foot, as the area is very pedestrian friendly. You really get a feel for the essence of Denver here — people from all different walks of life can cross paths and connect with each other. Capitol Hill is also a cultural hub for art and music-lovers. This is obvious as you walk around and see the museums and renowned music venues. Make sure to adventure out on foot and explore some of these spots on your next visit to Capitol Hill:
LISTEN: Ogden Theatre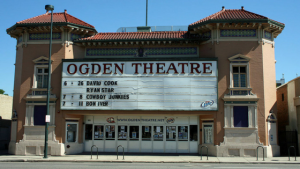 If you're craving some live music, be sure to get tickets to an Ogden Theatre show. With a good mix of local and national acts, there's sure to be something to spark your interest. This historic, former movie theater was opened in 1919 and still retains some of its original charm. From its traditional marquee sign to its beautiful molding, this building speaks to Denver's history and is even listed on the National Register of Historic Places.
SOCIALIZE: Civic Center Park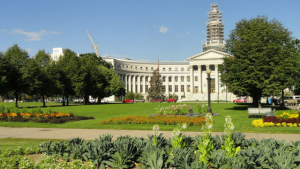 When in Capitol Hill, a visit to one of Denver's most popular green spaces, Civic Center Park, is essential. This central gathering space is known for hosting summer festivals as well as a plethora of trendy food trucks that gather every Tuesday and Thursday from May through October. The historic park encompasses 12 acres and serves as an urban oasis for Denverites. This park even hosts occasional events including fitness classes and scavenger hunts. The fantastic architectural backdrop is an added bonus to getting outside and exploring this beautiful space.
VISIT: Colorado State Capitol
No visit to Capitol Hill neighborhood is complete without a stop at the Colorado State Capitol building. At the gorgeous gold-domed Capitol, people can make their way up the "mile-high" marker for a beautiful view. The dome was made from 200 ounces of gold that Colorado gold miners donated for its gilding, back in 1908. The building itself was designed by Elijah E. Myers and was in construction from 1886 to 1901. Today, visitors can gaze upon the golden dome and even take a free tour, offered Monday through Friday, from 10:00am-3:00pm.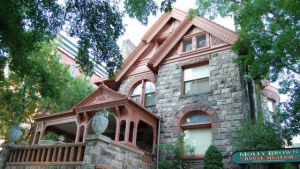 In Capitol Hill, the Molly Brown House Museum allows visitors to get a sense of the history of the "unsinkable Molly Brown" who spent 40 years in this home. History buffs will love the captivating tour, which delves into the story of Margaret "Molly" Brown — her passionate activism and philanthropy over the years. It also details the interesting restoration process of her home. For those who appreciate great architecture, the Molly Brown House Museum is an inspiring visit. Located only about a block or two from the Capitol Building, this house is certainly worth a stop along your journey through Capitol Hill.
With so much to do in this neighborhood, you could easily make a day or weekend of exploring the area. As a resident, you'll find there is always something new to discover. In addition to these must-see spots, the Capitol Hill neighborhood is also full of great restaurants and bars to refuel along the way. This is a don't-miss neighborhood if you're visiting Denver.