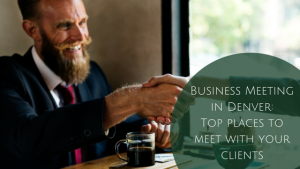 Denver is a bustling city with a multitude of resources for both new and more seasoned professionals. For businessmen and women with a network of clients to connect with, sometimes you'd rather meet outside of your office. You may be looking for a comfortable meeting spot with a more relaxed feel or perhaps you're looking for a great spot in the city to meet a client for lunch. Luckily, Denver has a vast selection of cafes and restaurants to choose from. Whether you're looking for a casual coffee shop or an upscale lunch restaurant, you'll find something to suit your needs. Here are some of the best Denver spots to host your next client meeting:
If you're searching for the best place to meet with a client over a great cup of coffee, look no further than Corvus Coffee Roasters. Their flagship espresso bar and roast works is just south of downtown Denver on 1740 S Broadway. With a calming yet upbeat atmosphere, this is a great, quieter place to meet where you won't have to shout your conversation. The space is comfortable and cozy with warm interior finishes, an industrial feel, and a garage door that opens up in the warmer season. They have coffee roasters in the back where visitors can come Monday through Thursday to view the process in action. A perk to this spot is its convenient parking, with a free and easy parking lot just next door.
Another great coffee shop you should keep in mind is Huckleberry Roasters in the Northwest district. Their coffee and espresso is renowned as some of the best in Denver, making it a great place for your and your client to grab a latte and pastry from their impressive case. They also offer savory and sweet toast options as well as an extensive tea list. The vibe inside is modern and minimalist yet still warm and inviting. The bright and airy space gets even better when they open their half garage door on warmer days. They have plenty of booths as well as table and bar seating to accommodate you. In the back, you can peek into their roastery work room and get a glimpse into the process. People find this is a great space to be productive, making it a perfect meeting spot. Check them out at 4301 Pecos Street.
When you're looking for somewhere to go for a bit more sustenance than coffee but still want to keep it casual, try Olive & Finch for your next business meet-up. Their uptown location on 1552 E 17th Avenue has a quaint, comfortable feel and serves up delicious breakfast, brunch, and lunch offerings daily. All of their food is made from scratch and their diverse, well-priced menu is sure to please. Here you and your client can enjoy a delectable sandwich and free-pressed juice, like their "Rise & Shine" blend, made with apples, kale, grapes, celery, ginger, lemon, orange, and spinach. They also offer artisan coffee drinks to sip on throughout your meeting.
For a more extensive meeting over lunch, take your client to The Kitchen Denver. Tucked away in the heart of LoDo at 1530 16th Street, this farm-to-table bistro shines for its locally-sourced ingredients and modern, classy atmosphere. They offer a seasonally-rotating menu including a raw bar and stunning fish, meat, and vegetarian dishes to ignite the senses. They open at 11am daily to accommodate those earlier lunch appointments you may require. You'll find they're typically quieter in the early part of the day, with the same quality food as their dinner menu. Their ample windows and attentive and friendly service make this a bright, inviting space to meet over a delicious lunch.
A lunch at Guard and Grace is sure to impress your client and provide an enjoyable experience all around. The daytime atmosphere is perfectly catered for a business lunch. With exquisite food, exceptional service, and a beautiful view of the Denver skyline, the setting is sure to make a great impression on your client. The staff are professional and timely, which is important if you need to keep your eye on the time during a busy workday. They've been voted the best steakhouse in Denver several times and feature a locally-sourced menu. Check them out for lunch on weekdays from 11am to 3pm at 1801 California Street in Denver.
Denver is built for the modern professional. With countless great spots to meet up with clients in a relaxed atmosphere, Denver is sure to have what you're looking for for your next business meeting. Whether you'd like to grab a quick coffee with a new client or impress your guest with a more indulgent lunch, Denver has the perfect cafe or restaurant. With countless options, it can be difficult to know where to begin. These five suggestions are sure to make your go-to list when it comes to favorite client-meeting spots.