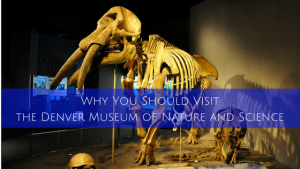 In the vast and exciting Mile High City, there's an attraction or event to suit nearly everyone. With countless options to explore, it can be difficult to choose where to start. One great place to begin is the Denver Museum of Nature and Science. This municipal natural history and science museum is nestled in Denver's beautiful City Park at 2001 Colorado Blvd. Open daily from 9am-5pm, the museum is a fun and educational space for kids and adults. Within its huge 716,000 sq.ft. building lies some of the best scientific resources the Rocky Mountain region has to offer. The museum houses over a million objects in its collections, including natural history and anthropological materials and archival and library resources. With several floors of rotating and regular exhibits and a variety of programs and activities, there's something for everyone to enjoy. You can even bask in the gorgeous view of the front range and downtown Denver from the Leprino Family Atrium that overlooks city park. Some spend a half day while others find themselves exploring for a whole day. Either way, make sure you set aside a good chunk of time to get the most out of this great museum. Here are a few reasons why a visit to the Denver Museum of Nature and Science should be at the top of your list:
1. Spectacular exhibits
The most obvious reason to visit this museum is its exhibits. Some of the top regular exhibits to check out are the Prehistoric Journey exhibition, where you'll get to see authentic dinosaur fossils and skeletons; and the Gems and Minerals exhibit, where you can view some local Colorado gemstones. Check out their website for up-to-date information on rotating exhibits. No matter what you choose to explore, you'll get a taste of Colorado's natural wonders as well as the world's. The exhibits offer a vast amount of information in an engaging way to inspire curiosity and excitement in visitors of all ages. Their mission is to compel people to think more critically by learning about the past and becoming better stewards for the future.
2. Phipps IMAX Theater
When you've finished exploring the exhibits, your journey doesn't have to be over. Make sure you check out their IMAX movie options, too — you won't be disappointed. The Phipp's IMAX Theater at the museum is the perfect place to watch an educational film on their 3-story high screen. It's sure to be a visually and audibly entertaining experience. Check out some of their current films, like "Dream Big: Engineering our World" in 3D, or a Hollywood favorite, "The Martian" starring Matt Damon.
3. Gates Planetarium
A visit to the Museum of Nature and Science isn't complete without experiencing a Planetarium show at the Charles C. Gates Planetarium. This spectacular metal-domed theater offers programs like "Black Holes: The Other Side of Infinity" which allows you to dive into the other-worldly exploration of black holes. They also have more kid-oriented shows, like their "One World, One Sky: Big Bird's Adventure" in which Sesame Street characters explain the ways different cultures perceive outer space. When it first opened, this planetarium was a room with a star projector and fabric dome; it's made quite a transformation into the digital wonder you can experience today.
4. Family events
If you can coordinate it, visit the museum and catch one of their fantastic family-friendly events. They host a variety of programs from archaeology-focused canoe trips to stargazing events. They're currently offering a Saturday program on March 3, 2018 from 9am-5pm called "Girls & Science 2018" which is inspired by women in science. It's free for all ages with the price of museum admission. Another upcoming event is "Creatures of Light Family Glow Party", which will be held on Thursday, March 8, 2018 from 6-8pm. This event kicks off the Creatures of Light temporary exhibition and will offer related art-making opportunities like making your own glowing creature, drawing with light, and making your own glow sticks.
5. SCFD Community Free Days
Looking for an inexpensive activity? You're in luck. Plan your visit on one of the many community free days funded by the Scientific & Cultural Facilities District. On these days you're free to explore the museum at no charge. A fee still applies to visit extra features like IMAX films, Planetarium shows, and temporary exhibitions. Check out their 2018 free days here.
The Denver Museum of Nature and Science has been open since 1908 (then the Colorado Museum of Natural History), and it still remains vibrant and alive today. Its dynamic and engaging exhibits are sure to please children and adult visitors alike. Whether you're a local Denverite or a visiting tourist, this museum should be on your list of places to visit.