Whether you're living in Denver or visiting, you probably know that beautiful natural scenery is always nearby. The gorgeous hiking and parks are often the first to catch our attention, but Denver is also home to two unique and beautiful botanic gardens. Each one is absolutely worth a visit.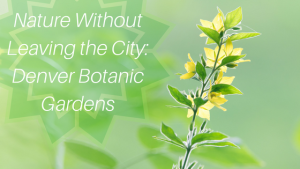 The botanic garden at York Street boasts 24 acres of gardens and collections. It has a unique landscape of both natural and contemporary design that is incredibly elegant. While walking around these gardens, you can find plant specimens from all around the world.
Not only does the York Street Botanical Garden offer an amazing variety of lush plants and flowers, but it also offers the Mordecai Children's Garden. In this special garden designed for kids and families, visitors get to play in nature and observe new scenery with the change of the seasons.
The botanic garden at York Street also features the standout Science Pyramid where guests can take a closer look at the ongoing research taking place at the gardens. You can enjoy a tour year round, and you can even book special events.
Chatfield Farms can be found nestled upon the banks of Deer Creek in southern Jefferson County. This 700-acre native plant refuge and working farm offers breathtaking scenery with plenty to explore: a restored dairy barn and silo from 1918; the 1874 Deer Creek Schoolhouse; 2.5 miles of nature trails; Deer Creek Discovery children's play area; and beautiful wildflower gardens.
Chatfield Farms has become known as a great spot for bird watching, and many guests bring binoculars. The butterfly gardens also offer another tranquil space with beautiful views.
Check out the website for both gardens for more information on admission, parking, directions, and more.
Each garden offers a unique experience. The gardens at York Street are a more traditional garden experience with many types of fauna from around the world. At Chatfield Farms you get to see native vegetation in the setting of a working farm. I recommend visiting both gardens to see for yourself what they have to offer!