The diverse neighborhoods of Denver are certainly a large part of what makes this city so captivating. Park Hill is one of those quaint "suburb-in-the-city" neighborhoods that offers a relaxing escape from the bustle of downtown. Located in the northeastern quadrant of Denver, this area is actually broken up into three different 'hoods: Northeast Park Hill, North Park Hill, and South Park Hill. What you'll likely see strolling through Park Hill today is an upscale yet diverse neighborhood, but that was not always the case.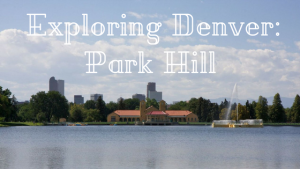 Among these well-kept properties and ancient houses on Montview Boulevard, lies a history of division between economics, class, and race. Park Hill's roots go back to 1887 when Baron Allois Gullaume Engine von Winckler designed the neighborhood on a plot of land he owned. Homes were built and sold to new settlers in the early 1900s, including families from Europe as well as African Americans. In the 1920s, as Park Hill was becoming one of the most sought-after neighborhoods, developers began to create racial restrictions, which caused the area to become demographically almost all white. After World War II, North Park Hill began to draw in middle-class black families, which spurred the "white flight" that realtors used to their advantage. As a result, segregation within Park Hill was imminent.
Today, Park Hill is made up of people from varying ethnic backgrounds, making it a much more diverse neighborhood than in past years. You can find something for everyone in this area of the Mile High City, including local restaurants and shops, great little grocery stores, and many hidden gems. This friendly neighborhood is also quite bike friendly, with ample bike lanes throughout. If you're visiting on a weekend, you may even notice that cyclists seem to outnumber cars. Of course, public transport is well-developed in this area, so it's easy to go without a car. Here are some of the key spots you should check out if you find yourself in the Park Hill area:
BRUNCH: Park Hill Hub
Looking for a interesting joint to satisfy your brunch needs? Take a walk over to Park Hill Hub and see why locals love this neighborhood coffee and breakfast spot. Caffeinate with a spicy Bhakti Chai latte while sitting out on their shaded patio surrounded by plants. Not just a coffee shop, this place plates up some serious brunch options, including their protein breakfast bowls. Try their Mediterranean delight which includes two perfectly-cooked eggs, pesto, mozzarella, quinoa, zucchini, artichoke hearts, and sundried tomatoes.
STROLL: City Park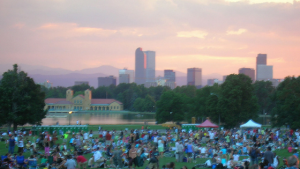 Just adjacent to Park Hill is City Park — a great place to escape the city noise and experience nature. This 330-acre urban park contains a 7.5 mile-long bike path, which leads you past many sights, including tranquil duck ponds, civil rights memorials, and beautiful greenery. As well as containing tennis courts, multipurpose fields, two lakes, and historical monuments, City Park also holds two major attractions — the Denver Zoo and Denver Museum of Nature and Science. If you're looking for something to do with your kids, head over to the Zoo to give them an educational experience they won't forget.
DINE: Tables
Finally, if you're searching for a great hidden gem in Park Hill for a date or night out, grab a reservation at Tables and see why it's a local favorite. This farm-to-table neighborhood bistro has a comfortable yet elegant feel. On warm Denver evenings, try to get a spot outside in their trendy outdoor seating area. The fantastic wait staff serve up specialty cocktails that vary by season, so you can always find something new to experience. Tucked away in the residential area of Park Hill, this homey spot serves up mouth-watering fares, like their pan-seared trout served with a pumpkin green bean sauté, smoked trout-tonnato sauce, and a hazelnut -pepita and horseradish crumble.
These are just a few great places to start exploring all that Park Hill has to offer, but certainly the best way to get a feel for this neighborhood is by taking a walk around their tree-lined streets and seeing the new hip places that are popping up left and right. It's a fun neighborhood to explore, whether as a resident or visitor.