There are many diverse neighborhoods within the buzzing city of Denver, each possessing its own unique charm. Lower Downtown, or LoDo as it's known to locals, is located in the heart of downtown Denver and has become a major hub for much of the Mile High City's entertainment.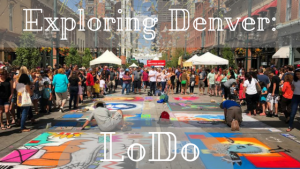 LoDo is the oldest neighborhood in Denver, with rich architecture and history that draws many tourists. It became a destination neighborhood largely due to its revitalization in the late 1980s and 1990s. After a zoning ordinance was enacted, many of the historic warehouse buildings were preserved, and many were transformed into trendy lofts, retail, and office spaces. Today in LoDo, you can expect to find a cultural neighborhood filled with edgy art galleries, a vibrant night scene, and innovative restaurants that rival those of the NYC food scene.
Here are a few spots in LoDo that are not to be missed:
Citizen Rail is a new restaurant in the LoDo neighborhood, serving delicious wood-fired fare. Its name was inspired by its neighboring train lines, as well as the idea of sharing food with the community. You can find this hotspot located in the lobby of the new Hotel Born Denver, in the happening Union Station neighborhood. They only recently opened their doors to the public in August 2017, but have already attracted a lot of attention in the LoDo foodie scene. With a custom wood-fired grill and an open kitchen concept, guests can sit at the chef's counter and watch each dish come together.
The space has a modern, rustic feel, which echos the style of food they serve – traditional wood-fired food, with modern experimental twists to keep customers pleasantly surprised. If you find yourself in LoDo at happy hour, visit Citizen Rail and explore the heated patio where they serve up unique cocktails like "Catch the Westbound", a pineapple rum cocktail that comes with a slice of grilled pineapple, or a plate of the Wood-Grilled Oysters, complete with cilantro garlic butter.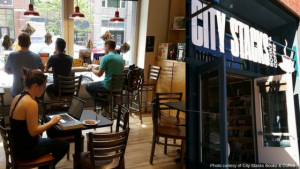 This place will satisfy your caffeine and reading needs. For those times when you need to sequester yourself in the stacks and explore new reading material, City Stacks is worth a visit. This family owned and operated bookstore has been gracing LoDo with its select literary choices and delicious lattes since 2014 when it opened. The selection of books is not overwhelming, but reflects the care that goes into curating them. The staff are very friendly and willing to help customers find what they need, including an array of small creative gifts they offer for your book-loving friends. This quaint bookshop cafe is a cozy spot to meet a friend for coffee or to get work done while enjoying a caramel vanilla latte.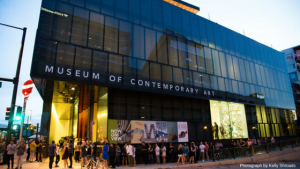 Like many other contemporary art museums, the Museum of Contemporary Art Denver, or MCA Denver, is sure to challenge and expand the minds of visitors. Here you can find art that experiments with different media and ideas – bending and twisting concepts, and creating meaningful dialogue about modern contemporary art. With a small admission fee of $8, the museum is open Tuesdays through Sundays and is a manageable space to visit and spend an afternoon. They don't have a permanent collection, but rather display rotating exhibits, so they are constantly changing and keeping things interesting for viewers. Although their exhibits are frequently geared towards adults, they often host creative educational events for youth and adults alike, engaging the community in contemporary art culture.
Aside from the three floors of art exhibits, MCA Denver even has an interactive space for kids called the Bubble Garden where families can enjoy an art installation together. If looking at contemporary art makes you thirsty, head up to the rooftop cafe where MCA serves coffee, delicious food and creative happy-hour cocktails. As if the rooftop view of the city and mountainscape weren't enough, they often have evening live music performances to check out as well.
The history and culture of the LoDo neighborhood makes it one of the most entertaining areas to spend your days in Denver. Come check out one of these spots and see for yourself why more and more visitors and locals alike are choosing to make LoDo their Denver destination.