The exciting city of Denver has many unique neighborhoods, each with its own style and character. The Highlands neighborhood is a very hip, up-and-coming neighborhood with a lively history and century-old buildings. A hub for many immigrant families, this neighborhood was the location of Denver's original Little Italy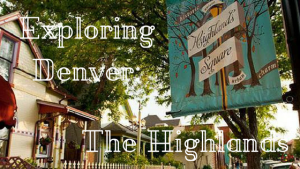 The Highlands neighborhood overlooks downtown, located about 2.5 miles northwest of it. The Highlands includes two distinct neighborhoods, Highland and West Highland. Together, as a region, they are called North Denver. This neighborhood is the largest in Denver, and encompasses three different commercial districts: Highlands Square, Tennyson Street, and Lower Highland (or LoHi).
The Highlands' history goes back to the 1800s when many Denver residents crowded the downtown area. In 1864 the Cherry Creek flood destroyed many areas of Denver and caused an influx of residents to move to the Highlands. The rich history of immigrants, particularly of Italian and Hispanic heritage, is still evident in the many family-owned restaurants serving traditional cultural cuisines.
Today in the Highlands, you'll find a family-friendly community full of small, hip, locally-owned shops. With a lively buzz on nights and weekends, the neighborhood is entertaining though still with a somewhat quiet and residential feel. The Highlands is very walker and cyclist-friendly, with the pedestrian Highlands Bridge and several bike trails in the area. Highlands square is a bustling area that includes boutique shopping and delicious food. Here are a few places to check out in the Highlands neighborhood:
EAT: Root Down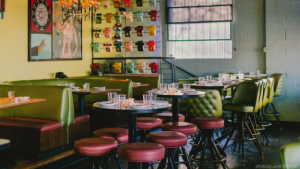 When exploring the Highlands, planning to brunch at Root Down is a must. This trendy restaurant is known for its hospitality and ethically-sourced, unique cuisine. Their aim is to connect the surrounding community to a dining experience in the same way that great ingredients are connected to food. Can't make it in for brunch? Make a reservation for dinner. You won't be disappointed — many of their dishes include seasonal vegetables from their two onsite gardens.
SIP: Williams and Graham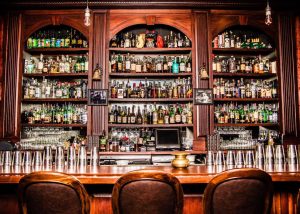 When first approaching William and Graham in the LoHi neighborhood of Denver, the "Williams and Graham Booksellers" sign may throw you off. This is precisely what this up-scale speakeasy wants. Enter through the bookstore facade, pass through a clever bookcase entrance, and you'll be pleasantly surprised to find the speakeasy's elegant bar and lounge area, full of leather and vintage touches to add to the 1920s feel. Visit for happy hour and taste one of their expertly crafted cocktails. Their popular Blackberry Sage Smash is a perfect way to unwind after a long day at the office.
DO: Sloan's Lake Park
After you've filled your stomach with the best the Highlands has to offer, you may crave some outdoor adventuring. Luckily this neighborhood is home to the tranquil Sloan's Lake Park, where you can catch stunning mountain views, take a relaxing walk around the lakeside path, or even try your hand at stand-up paddleboarding. With the largest lake in Denver and about 177 acres to explore, this park is worth a visit. Join the locals and tourists here on evenings to gaze at the sunset over the Rocky Mountains and Denver skyline. If you're lucky enough to be in the area in mid-summer, don't miss the Dragon Boat Festival held every year at the park!
The Highlands neighborhood is a great place for visitors and locals alike. There's always something to do, and it's a bit easier to relax here than it is in the center of downtown. Whether you're in the mood for a delicious meal, craft cocktail, great shopping, or outdoor exploring, the Highlands neighborhood really does have it all.