Denver is a city that never ceases to attract newcomers to its many inviting neighborhoods. One such neighborhood that adds to the flavor of the Mile High City is Congress Park, located in central Denver.  This charming area has a real small-town vibe while still maintaining some city atmosphere. This friendly neighborhood is full of tree-lined streets and historic architecture that speaks to Denver's beginnings.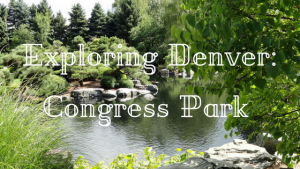 The quaint area was known as Capitol Heights back in the 1880s. William Larimer, one of Denver's founders, created the Mount Prospect Cemetery area which then transformed to today's Cheesman Park, Denver Botanic Gardens, and Congress Park itself. It was developed around the same time as the tramway lines on East Colfax, East 12th Avenue, and East Sixth Avenue, which heavily influenced its population. In fact, many rich Denverites at the time decided to migrate to the neighborhood to try to escape the polluted city environment. The streetcar lines also influenced business, and many flourishing ones popped up along 12th and Clayton/Elizabeth and 12th and Madison. Their old shop buildings can still be seen along this route today. In the 1970s, the neighborhood was finally given its name Congress Park.
Today, residents and visitors enjoy the gem that is the Congress Park area, with its charming feel and local restaurants. The neighborhood is named after the park that it contains, which hosts many resources, including a playground, swimming pool, baseball field, and even the Denver Botanic Gardens. On a balmy summer's day in Denver, you can always find locals relaxing in Congress Park. Here are a few of the gems that are sure to give you a taste of all that Congress Park has to offer:
EAT: Shells and Sauce
This neighborhood holds a few hidden gems, including this one. Shells and Sauce is an incredible spot that serves up delicious, traditional italian dishes. This authentic joint has a cozy vibe, so you can pull up a chair and tuck in for some of the best service and delectable plates in the neighborhood. Show up for their happy hour specials and try their small plates like their stuffed portabella with spinach and mozzarella served with roasted red pepper coulis.
SIP: Sienna Wine Bar & Small Plates
Another great local spot for happy hour drinks with a wine focus is Sienna Wine Bar. Come for a superb glass of wine and maybe even try a flight of a few different selections. The experts there can help you choose just the right varieties to try and tell you which ones pair well with their tasty small plates. Swing by this neighborhood gem with a friend or date and share a couple small plates paired with excellent wine.
LISTEN: Bluebird Theater
Approach Bluebird Theater on E Colfax Ave in Congress Park and you'll be sent back in time when you gaze up at their historic, lighted marquee sign. Step inside and you'll get even more historic charm in this intimate music venue with gargoyles adorning the walls. This quaint concert spot has been around since 1913 (then called Thomson Theater) and today has a slew of talented musicians coming through. Be sure to check their calendar for one that fits your liking. On a street in Congress Park that sports many new businesses, Bluebird Theater retains some of the older Congress Park appeal.
GET OUTSIDE: Denver Botanic Gardens
One of the lovely outdoor attractions in Congress Park is the Denver Botanic Gardens. Walk along the meandering paths that lead you through well-arranged flora which has been grouped according to type and climate. They also host a very popular temporary sculpture exhibition that keeps residents returning for more. The mission of the botanic gardens is entertain its visitors and help spread the education of the Gardens through outreach and collaboration. They even host conservation programs that deal with the protection of species and natural habitats. Come check them out for some fresh air in their unique and captivating greenspace.
It's easy to group all of Denver into one style, culture, or description. Upon further inspection and adventuring, visitors and residents can get to know the individual neighborhoods of the Mile High City that have people entranced by their unique charm. If exploring Denver appeals to you, don't miss the Congress Park neighborhood!