Among all the varied neighborhoods that make up the city of Denver, Cherry Creek sits at the center with a character all its own. The area got its name from the Cherry Creek that runs along its south side. In this neighborhood, you can find a mix of tree-lined residential streets and more urban areas. Cherry Creek is home to about 6,000 people who consider it a little oasis within the Mile High city.
This area wasn't always referred to as Cherry Creek. When exploring this neighborhood, you may come across an old building with a plaque that reads "Harman Town Hall" on the corner of 4th and St. Paul. This hints at the history of the neighborhood which was established as the town of Harman in the 1800s and remained so until 1895, when it was annexed by Denver. In the 1800s, this neighborhood was rich in agriculture and trade since it bordered the creek. The Cherry Creek was known for causing trouble, and in 1864, it overflowed and flooded much of the city. It wasn't until the 1920s that the new Cherry Creek neighborhood had been plotted out. The city tried to quell the creek with concrete walls, and in 1950 the Cherry Creek Dam was complete. Around the same time, a man named Temple Buell built the famous Cherry Creek Mall. While the mall has been rebuilt several times, the history of area rests largely on the Cherry Creek and the area's transformation.
Today in Cherry Creek you can, of course, find the popular Cherry Creek North outdoor shopping and dining area, as well as the Cherry Creek Shopping Center, both of which attract many residents and tourists. Cherry Creek North boasts mostly locally-owned, independent shops within its 16 blocks. The upscale neighborhood itself is a very welcoming and energetic community with a lively nightlife. Whether visiting briefly or spending a bit more time in Cherry Creek, here are a few places that you won't want to miss:
SIP: Aviano Coffee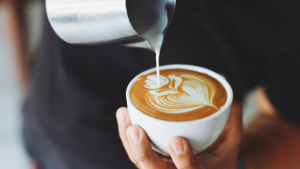 To get your caffeine fix, head to Aviano Coffee. You'll find them in their new location in the heart of Cherry Creek North. This place has an array of unique coffee drinks and a modern, inviting space, making it one of the most hip coffee joints in the neighborhood. Often with lines out the door, Aviano's cult-like following is a testament to the great quality of coffee you can get there. They pay careful attention to perfecting each cup, so don't come in a hurry. Instead, pull up a chair in their relaxing outdoor patio area and enjoy the atmosphere.
EAT: Departure
This new restaurant opened a little over a year ago in August of 2016, and Denverites have been raving about it ever since. Self-described as a "global adventure in dining", this Asian-fusion restaurant puts a delicious spin on authentic dishes and even offers a handful of vegan options. The space itself is modern and trendy, sometimes described as futuristic, with bright lights adorning the indoor space. They also have a rooftop terrace called "Departure Elevated", reached by a ride in their disco elevator. Here you can gaze at the gorgeous downtown Denver skyline, sip a finely crafted happy-hour cocktail, and eat some delicious dim sum.
GET OUTSIDE: Cherry Creek Bike Path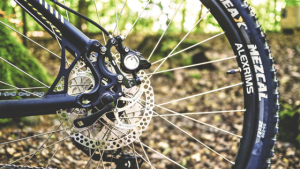 If you plan to spend one of Denver's many sunny days enjoying the outdoors, consider grabbing your bike and heading to the Cherry Creek Bike Path. This 11.2-mile path runs from downtown Denver's Confluence Park all the way to Cherry Creek Reservoir. The trail hits many different attractions along the way, including Cherry Creek Shopping Center. Cherry Creek State Park is a great place to stop for a break, offering activities like boating, swimming, camping and horseback riding.
VISIT: Cherry Creek Arts Festival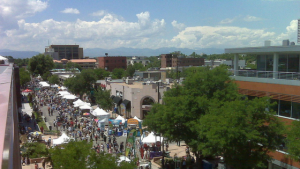 Cherry Creek is host to several popular festivals, particularly in the summer months. The Cherry Creek Arts Festival (CCAF) is a weekend-long, world-class festival where the visual, performing, and even culinary arts are celebrated. Over 350,000 people gather for this 3 day long event, which includes live music, food, performance art, and family fun. This is a free festival whose mission is to give access to art and to support education for all. It takes place annually on the 4th of July weekend when the neighborhood of Cherry Creek is alive and buzzing.
While the neighborhood of Cherry Creek has undergone major changes from its farmland and small town roots, it's maintained much of it's charm. Today, of course, many flock to Cherry Creek for their shopping needs or a summer festival, but its residents know that the day-to-day experience in this special neighborhood is equally worthwhile.