If you're looking for a place to sit and answer e-mails, meet with a coworker, or work on a project, Denver is brimming with cafes that offer the perfect atmosphere for productivity. Whether you're looking for a local roaster, trendy ambiance, or tasty pastries, there are countless options all over this city. Here are some of the best spots to find great coffee and the motivation you need to get work done.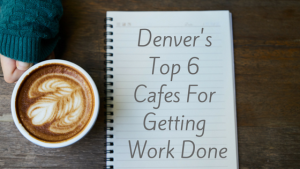 Located in Cherry Creek North, Aviano Coffee offers a trendy elegance and an open feel. Enjoy sitting on the patio when weather permits. Aviano is a highly rated cafe, and locals flock to it for its unique setting. Try their direct trade coffee and chai tea, as well as their delicious baked treats to keep you motivated!
Huckleberry is well-known in and around Sunnyside as a great coffee roaster. Easy parking makes Huckleberry a hassle-free work spot. You can take your pick of indoor and outdoor seating, and enjoy an espresso or a snack while you work. Chic yet minimalist, Huckleberry's atmosphere has an awesome local flare.
RiNo's CBD Cafe is a relatively new but popular spot to get work done. It's a beautiful space offering coffee, beer, and donuts. Check out their great donut flavors, like maple bacon, to reward your productivity. If you're looking for a unique spot to work with easy parking, you'll enjoy CBD Cafe.
This Platt Park hangout offers a unique atmosphere where you can get work done while enjoying ethically-sourced roasts. Set up on the patio for some fresh air or go inside to connect to an outlet and recharge. The large windows, garage doors, and great light give Steam Espresso Bar an open feel that will inspire you.
Check out this cafe for a comfortable, inspiring place to be productive. You can get a taste of high-end coffee drinks and delicious baked goods while working at the supersized co-working table. Purple Door Coffee also helps homeless teenagers and young adults by employing them and giving them the skills they need for employment, so it's a great place to support your community while you work.
This uptown venue is as unique and charming as it gets. Ride your bike here and park it out front on the bike racks. If your bike could use some maintenance, the bike shop can take care of it for you while you work. Whether your bike needs attention or not, this cafe is has a fun, relaxed vibe to help keep you feeling stress-free as you work.
Whether you work remotely or just need a break from the office, a change of pace accompanied by good coffee and a great atmosphere can help inspire productivity! These cafes are a few favorites on the seemingly endless list of cafes in this city.