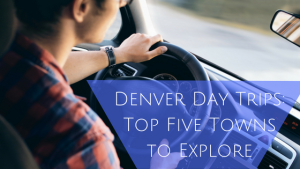 Living in Denver has many perks — this vast city has so much to offer in terms of events, activities, cuisine, and a number of neighborhoods. Even with all the excitement, sometimes you want to escape the big city and explore a bit more. Luckily, some of the best surrounding mountain towns that Colorado has to offer are just a short drive from Denver. Here are the top five towns to visit the next time you're ready for a day trip out of the city:
In the midst of Summit County, Frisco has a lot of charm. Though this town is often overlooked when compared to the surrounding ski towns, Frisco is a gem located only about an hour from Denver. This spot is an outdoor paradise for visitors who want to adventure. In the winter, you can avoid the resort-town chaos and head to Frisco Adventure Park. Not only can you can tube, cross-country ski, and snowshoe here, but you can also take a beginner ski or snowboard lesson in a low-key environment. Best of all, they offer enchanting sleigh rides where they lead you through a magical forest landscape and treat you to live music under the stars. You can choose between a scenic hot cocoa ride with fresh cookies or a longer dinner sleigh ride with three courses. Looking for something a bit warmer? The Gathering House glassblowing studio and gallery in town offers free glass demonstrations on Tuesday, Thursday, and Saturday afternoons from 2-6pm, as well as hands-on classes that you can sign up for.
While known as a premier alpine getaway with one of the largest ski resorts in the U.S., this authentic mountain town also has a colorful history. It was founded in 1859, and the Gold Rush brought many settlers lusting for their own fortunes. Today, you can pay a visit to the Breckenridge Welcome Center and Museum for more mining history or reserve a spot in one of the many walking tours available, like the Gold Mine and Dredge Boat Hike, which guides you through the Golden Horseshoe, where much of the early mining happened. You should also check out some of the historic buildings in town, like the Barney Ford Victorian House, which honors Barney L. Ford, an escaped slave who became a successful entrepreneur and civil rights leader. If skiing is what you're after, then journeying an hour and a half from the Mile High City to Breck, as locals call it, can provide you with the the pristine slopes you desire at Breckenridge Ski Resort. After you finish your ski session, you can explore Main Street which is lined with all kinds of great shops and restaurants. If you're not looking to ski, but still want some outdoor time, sign up for a dog sledding tour from Good Times Adventures. On the trails of the Swan River Valley, you'll get a firsthand look at how dog sledding works while experiencing the beautiful Rocky Mountains.
Located just about an hour south of Denver at the base of Pikes Peak is the exciting city of Colorado Springs. This city is the second-most populated in Colorado (second to Denver). With both nature and culture to offer visitors, this city has many options to keep you entertained for a day. One must-see is the stunning Garden of the Gods landmark, made up of majestic red rock formations. This is also the home of the Broadmoor hotel, whose extensive history and sophisticated architectural style make it a beautiful visit. You can also schedule to visit the US Air Force Academy located just north of Colorado Springs. While there, stop in to see their stunning chapel, a 150-feet-high visual masterpiece of steel, glass, and aluminum. For an exciting journey, visit the Pikes Peak Cog Railway, which offers daily rides with guided tours to 14,115ft-high panoramic summit of Pikes Peak. A trip to Colorado Springs isn't complete without adventuring through its neighbor, Manitou Springs, just six miles west. Here you'll find an artist's paradise in its downtown, filled with art galleries, restaurants, boutiques, as well as exciting street performances.
If you're looking to get out of Denver for a day, journey northwest up to Estes Park, a nature lover's heaven. Less than an hour and a half from Denver, the town of Estes Park is the headquarters for the Rocky Mountain National Park. Want to summit, but not up for a strenuous hike? You're in luck. The Estes Park Aerial Tramway offers daily tram rides up to the summit of Prospect Mountain where you can enjoy views of the Rocky Mountain National Park, the Continental Divide, and the village of Estes Park below. After your summit adventure, head to the historic Stanley Hotel, and prepare to be charmed. It's listed on the National Register of Historic Places and is a member of Historic Hotels of America. A visit will have you finding the same old world feel and grandeur as its first visitors in 1909.
If you're a Denver local, then you've likely ventured the half hour drive up to Boulder, an eco-conscious, outdoor-loving city. One quintessential outdoor landmark in Boulder is the famed Flatirons, where your hiking is rewarded with gorgeous views of the city below and a stunning mountainscape. Once you've gotten your fresh air for the day, consider spending your evening at Fox Theatre. Known for being one of the best rock venues in the country, it's the perfect spot to catch one of the many great bands rolling through town. If you're in the mood for a beer, you're in luck — Boulder has more breweries per capita than any other city in the U.S..
The next time you find yourself wanting to get out of the Mile High City bustle, cure your restlessness by venturing to one of the many unique surrounding towns and experience a different side of Colorado. From the beautiful drive to the towns themselves, these trips make a perfect weekend adventure.