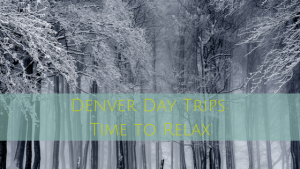 Denver is full of exciting things to see and do in all seasons. Especially in the winter, the bustling city seems to sparkle with freshly fallen snow, and it's hard to remain bored in a place with so much excitement. With all of this activity comes a need to rest, recuperate, and venture outside the city occasionally. Luckily, there are many nearby options for you to explore and enjoy in the chilliest of months. Here are a few day trips just a short drive from Denver to help you rest and relax this winter:
For many people, Colorado is associated with craft beer. If you're looking for a brewery to make a day trip out of, Avery Brewing Company should be on your list. At only a 40- minute drive from the Mile High City, this great brewery is located in Boulder, CO. Here, you can relax and sample some of the best craft brews around while getting an inside look at the process. Reserve a spot at one of their free daily tours and learn firsthand about the art of creating unique craft brews. Though they have a lovely patio for warmer months, on a chilly winter's day you can cozy up in their huge indoor space with some delicious food and a vast selection of beers. Two favorites for the winter months are Chai High and Old Jubilation Ale. Both ales are brewed with chai spices, hazelnut, and toffee flavors that'll delight your senses.
Looking to stimulate your senses with some visual entertainment? Foothills Art Center is one of those hidden gems of a museum that's well worth a visit. With seven different rotating exhibits year-round, each visit is bound to inspire. The museum itself is gorgeous, housed in a historic, Gothic-style church, and is filled with an excellent variety of both 2D and 3D art. At under a half hour from Denver, Foothills Art Center rests in the charming downtown area of Golden. As the museum is on the smaller size, you could spend an hour or two absorbing the exhibits and spend the rest of your day exploring Golden's many shops and restaurants. However, if you're looking to get your hands dirty and delve into your own creativity, the center offers occasional art workshops and classes. Check out their Cloudscapes pastel workshop led by Kathy Beekman in February or one of their future workshops, like watercolor painting workshop, and embrace your creative side.
Maybe you're not looking for a strenuous hike, but you still want the incredible views. Plan a day to take a ride on one of the many scenic byways in the area, specifically the serene Peak to Peak scenic byway. This lovely drive can be accessed in less than an hour from Denver. It begins in Central City and winds north for almost 60 miles, all the way to the beautiful Estes Park. This drive was designated in 1918 and is the state's oldest scenic byway. As you cruise down the roads, you'll pass through Arapaho National Forest, Indian Peaks Wilderness Area, as well as Rocky Mountain National Park. Be sure to pull off at Panorama Point to enjoy the majestic views of Mount Evans, Denver, Rocky Mountain National Park, and Roosevelt National Forest. You'll want to leave at least 2 hours to complete the drive, depending on how much you stop off. Some towns make fun detours along the way, and, of course, Central City and Black Hawk, where you'll begin your journey, can be fun to explore as well.
Just over an hour from Denver lies a slice of paradise in Manitou Springs. At SunWater Spa you can absorb the tranquil atmosphere by booking a day of relaxation treatments like their aromatic "Tree of Life" massage which encapsulates the senses with aromas of cedar, fir, and pine. They also offer more unique services in Thai Yoga Therapy, rooted in ancient healing practices of Yoga, Ayurvedic Medicine, and Buddhist spiritual practices, as well as Watsu and Aqua Cranial water therapy treatments. Follow one of these therapeutic sessions with an immersive soak in one of their cedar pools, all filled with the healing mineral waters directly from the famed Seven Minute Spring. If you're looking for something with a bit more movement or spiritual practice, they also regularly offer yoga, movement, and meditation classes and events. Come renew yourself for a day at this beautiufl spa and leave rejuvenated.
Maybe you're looking to unwind after the holiday bustle, or maybe you simply need to escape your house in the midst of a long winter. Regardless of your reason, take a day to get out and explore while still treating yourself to some relaxation. It's easy to hunker down in Denver for the winter, but the surrounding areas have a great deal to offer all year round.