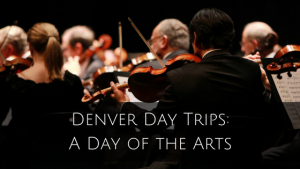 There's no doubt that Denver is a cultural mecca. You'll be hard-pressed to find a city as exciting and full of creative energy; but venturing just outside of the Mile High City, Denverites will find that there are even more hidden cultural gems that Colorado has to offer.
At less than an hour and a half north of Denver, the energetic college town of Fort Collins has an exciting art community. On the first friday of each month, the galleries, museums, and art-minded shops in historic Old Town open their doors and stay open later for the enjoyment of their many visitors. People from all around come to appreciate the variety of beautiful artwork, as well as to listen to art talks and even take part in interactive displays. This year-round art walk takes place on the first friday of each month from 6-9pm.
In Colorado Springs, a bustling city just an hour south of Denver, you'll find a community of music-lovers, foodies, and artists of every kind. On your next day trip to Colorado Springs, pay a visit to the Colorado Springs Philharmonic for an immersive musical experience unlike any other. This local treasure is where many come to experience live orchestral music of all kinds. At an affordable price, there's no excuse not to reserve your ticket for one of their many afternoon or evening performances. There's nothing quite like sharing such a great live music experience in a beautiful venue. A Pops performance never fails to please a crowd, but there are many musical acts to choose from.
Boulder is an art-lover's paradise. While known as a younger town full to the brim with microbreweries, it's also full of exciting cultural events to satisfy all of the senses. Plan a day trip around seeing a theatrical performance at the Dairy Arts Center. This former dairy plant now houses art galleries, a cinema, and theaters where the Boulder Ensemble Theatre Company performs regularly. They've been named the "Best Theatre for Adults" by Westword Denver for their powerful, thought-provoking plays. Come see one of their vibrant and energetic shows like "Guards at the Taj", an exciting dark comedy by Rajiv Joseph. Their motto is "Wonderful Stories. Wonderfully Told", and they live up to it with rave reviews as testament.
Tucked away in Englewood, just 20 minutes outside of downtown Denver, lies the Museum of Outdoor Arts, or MOA. Englewood is a city within the Denver-Aurora Metropolitan area, so just a short drive will take you to this unique art space. In the heart of Englewood lies the museum's headquarters at the Englewood Civic Center. While the indoor space offers a variety of art experiences and events, their outdoor art spaces are perhaps the real draw. They display kinetic sculptures, bronze statues, and earth-based conceptual artwork in their outdoor space at the museum, as well as in another location at Marjorie Park on the north side of Fiddler's Green Amphitheatre. The mission of MOA is to make art a part of everyday life. They fulfill this mission with their array of outdoor sculptures, accessible to visitors 24 hours a day, 7 days a week. They do offer guided tours as well for their indoor and outdoor collections, so be sure to reserve a time slot to get the most out of your visit. Visit the gallery during their hours, Tuesdays through Thursday 10am-5pm, Fridays 10am-4pm, and Saturdays 11am-4pm.
Whether you consider yourself an aficionado of art and culture or not, everyone can find something that interests them outside of the Denver city limits. A day trip out of the big city can create opportunities to expand your cultural horizons and extend the bounds of your art, music, and theater appreciation.