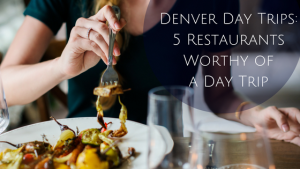 It's hard to tire of Denver's delicious and multi-faceted food scene, but from time to time, Denverites need to explore and seek to satisfy their taste buds outside of the big city. Venturing out to sample the flavors of Denver's surrounding cities can provide just the right change of pace. Here are 5 restaurants outside of the Mile High to get you started:
Just an hour outside of Denver is Colorado Springs, a busy city at the base of Pike's Peak. With so many year-round activities at Pike's Peak, you could easily spend the morning outside before enjoying a delicious brunch. Check out Over Easy in one of its three popular locations in Colorado Springs, and see why people often wait in line to savor their delectable plates. The downtown location on 28 South Tejon Street has a trendy atmosphere with brick and modern art to contribute to the intimate feel. On a warm day, grab a seat at an outdoor patio table, and choose from one of their brunch specialties including their Peace, Love & Pancakes Flight or their popular Huevos Rancheros all made from locally-sourced ingredients. Pair one with a $5 Bloody Mary, and you're set for a relaxing afternoon.
Another exceptional cafe worth the drive is tucked away in Manitou Springs, a quaint, historic mountain town just west of Colorado Springs. Here you'll find cliff dwellings to explore, art galleries to visit, and Adam's Mountain Cafe — a delicious restaurant located outside of the more touristy part of Manitou Springs. The cuisine here is globally diverse and reflects the Slow Food principles of organic and local ingredients. While they're not a vegetarian restaurant, they do offer many vegetarian and vegan dishes. Come for breakfast, lunch, or dinner, and you won't be disappointed. Their Southwestern Harvest Crepes, filled with roasted butternut squash, carmelized onions, corn, mixed calico greens, and white cheddar, topped with red chili, spiced pepitas, fresh tomatoes and sour cream are a popular favorite. Depending on which of their antique tables you sit at, check the letter drawer for some notes left by previous diners.
Only about an hour's drive from Denver, you'll find the charming town of Frisco, an outdoor-lover's heaven. Located near premium ski mountains at Breckenridge and Copper Mountain, there's plenty to do outside. When you find yourself getting hungry, head to Bread + Salt for breakfast or lunch. Open daily until 2pm, this is a great spot to grab a locally-sourced breakfast before exploring Frisco or to settle in for a filling lunch after a morning on the trails. Their name comes from the concept that offering bread and salt is a welcome greeting ceremony in several European countries — bread symbolizing prosperity, so one never goes hungry, and salt so that your life is filled with spice. What to order? Try their Challah French Toast, made with a vanilla cinnamon batter, topped with palisade peaches, powdered sugar, and creme anglaise.
For an upscale occasion, look no further than a day trip to Boulder and a reservation at Black Cat Bistro. This bistro is sure to satisfy your farm-to-table dinner needs. It's a family-owned restaurant that sources it's unique seasonal ingredients from Black Cat Farm. The bistro is an upscale yet cozy place to sit back and relax as you sample the excellent, creative dishes served up daily. If you decide to try the chef's tasting menu, you won't be disappointed as you take a journey through all the flavors they have to offer. Their menu changes daily and includes dishes like Colorado Striped Bass over winter squash hash, with fennel, mushrooms, and beurre blanc.
A two-hour drive northwest from Denver leads you to Grand Lake, a stunning area of Rocky Mountain National Park. The lake itself is the largest natural body of water in Colorado, and it provides visitors with plenty of outdoor activities year-round. A day trip to Grand Lake wouldn't be complete without a visit to the Rapids Lodge and Restaurant, which serves up gourmet dishes and stunning riverside views of the rapids. On a sunny day, you can eat your lunch outside while overlooking the water. The indoor ambiance is cozy, complete with an original stone fireplace. One of the most delicious dishes on the menu is the Chicken Ala Orange, a bacon-wrapped roasted chicken breast served with a blood orange sauce. When you have an entire weekend to spend at Grand Lake, book one of their charming rooms at the lodge.
Although the city of Denver is filled with exceptional cuisine, driving an hour or two can allow you to explore even more mouth-watering options. These cities surrounding the Mile High make for entertaining day trips, so make the most by planning a whole day, including a delicious meal.