The Denver area is exciting year round, but it really transforms into a magical place in the winter months. The sparkling city has so much to offer both within city lines and into the mountains. If you've already enjoyed a bit of the city and are looking for a great family excursion, there are many within a short drive from Denver. The following are a few of the best family-friendly day trips that shouldn't be missed this winter!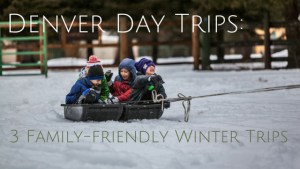 Visit the Georgetown Loop Railroad in the warmer season, and you can take an hour long ride in the open air; but come on a winter's day, and you can catch a warm ride through a snowy wonderland. On the Santa Train, young ones can enjoy riding along with Santa and Mrs. Claus. There are also Santa's helpers to entertain, serving hot cocoa, cookies, and candy canes to add to the festive feel. Make a reservation online or by phone see why many families find it to be a favorite winter tradition.
A little over an hour from Denver, don't miss spending a day in the snowy Rocky Mountain National Park. This famous park offers some of the most beautiful and tranquil scenery in Colorado. Strap on your snowshoes or cross country skis and explore some of the amazing trails they have to offer. The rangers at the visitor center can help your family find the right path based on experience and expectations. If you're looking for an activity your youngest ones can take part in, bring a sled to the Hidden Valley area and expect some tired kids at the end of your day out. Get a firsthand look at some of Colorado's wildlife including moose, elk, mule, bighorn sheep, coyotes and deer. Moose are often seen at the west side of the park around the Colorado River. Pack a lunch and come for the whole day to take advantage of this scenic beauty of this park.
If you and you family are lower on time but still want to enjoy some outdoor activities, head to one of large parks in the Mile-High city. Both City Park and Cheesman Park have acres and acres of snowy natural space. Grab a sled and bring the kids to spend a few hours enjoying an afternoon outside in the fresh air. Many Denverites also enjoy cross-country skiing and snowshoeing in the city's greenspace. If you have your own gear, bring it along; otherwise, rent some at one of the nearby gear shops.
Denver makes it easy to fight the temptation to stay inside during the long winter months. If you and your family are looking for a fun way to spend the day, you don't have to go far. Whether you head to a park for the afternoon or make a quick drive out of the city, Denver and the surrounding areas have so much to offer. Though you might have to bundle up, the winter scenery and fun will definitely be worth it.