December, 2017
The Denver area is exciting year round, but it really transforms into a magical place in the winter months. The sparkling city has so much to offer both within city lines and into the mountains. If you've already enjoyed a bit of the city and are looking for a great family excursion, there are many within a short drive from Denver. The following are a few of the best family-friendly day trips that shouldn't be missed this winter!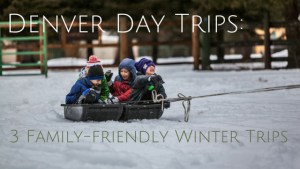 Visit the Georgetown Loop Railroad in the warmer season, and you can take an hour long ride in the open air; but come on a winter's day, and you can catch a warm ride through a snowy wonderland. On the Santa Train, young ones can enjoy riding along with Santa and Mrs. Claus. There are also Santa's helpers to entertain, serving hot cocoa, cookies, and candy canes to add to the festive feel. Make a reservation online or by phone see why many families find it to be a favorite winter tradition.
A little over an hour from Denver, don't miss spending a day in the snowy Rocky Mountain National Park. This famous park offers some of the most beautiful and tranquil scenery in Colorado. Strap on your snowshoes or cross country skis and explore some of the amazing trails they have to offer. The rangers at the visitor center can help your family find the right path based on experience and expectations. If you're looking for an activity your youngest ones can take part in, bring a sled to the Hidden Valley area and expect some tired kids at the end of your day out. Get a firsthand look at some of Colorado's wildlife including moose, elk, mule, bighorn sheep, coyotes and deer. Moose are often seen at the west side of the park around the Colorado River. Pack a lunch and come for the whole day to take advantage of this scenic beauty of this park.
If you and you family are lower on time but still want to enjoy some outdoor activities, head to one of large parks in the Mile-High city. Both City Park and Cheesman Park have acres and acres of snowy natural space. Grab a sled and bring the kids to spend a few hours enjoying an afternoon outside in the fresh air. Many Denverites also enjoy cross-country skiing and snowshoeing in the city's greenspace. If you have your own gear, bring it along; otherwise, rent some at one of the nearby gear shops.
Denver makes it easy to fight the temptation to stay inside during the long winter months. If you and your family are looking for a fun way to spend the day, you don't have to go far. Whether you head to a park for the afternoon or make a quick drive out of the city, Denver and the surrounding areas have so much to offer. Though you might have to bundle up, the winter scenery and fun will definitely be worth it.
Denver is an active city full of exciting cultural events year-round, and it becomes particularly magical during the winter holiday season. The picturesque twinkling lights amidst snow-capped trees are sure to get you in the festive spirit.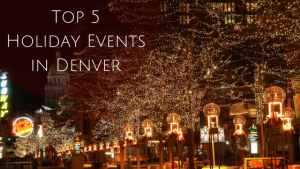 In addition to some exciting holiday activities, Denver's top craft breweries serve up some of their best winter brews, and restaurants fuel the cozy feelings with hot toddies. If Denver's winter charm has you feeling the holiday cheer, you'll want to check out some of Denver's most anticipated holiday happenings.
The famous Denver Zoo transforms into a sparkling winter wonderland every evening in December and attracts families from far and wide. The zoo itself is open until 5pm each day, when it briefly closes and reopens at 5:30pm for the Zoo Lights attraction. Come down and check out the animated light-up animal sculptures, as well as ice sculptors in action creating beautiful frozen masterpieces. You'll encounter some animals along the way, and you may even get a visit from Santa himself!
You can catch a performance of the famed holiday ballet at the Ellie Caulkins Opera House. Performed each year by the Colorado Ballet, Tchaikovsky's holiday classic charms children and adults of all ages. With live music played by the incredibly talented Colorado Ballet Orchestra, you're sure to leave full of holiday cheer. Whether you've seen it countless times, or this year is your first, seeing The Nutcracker is always a favorite holiday activity.
Looking for more magically-lit spaces after you've visited Zoo Lights? Explore the Denver Botanic Gardens, open evenings from 5-9pm, and see why visitors find the array of light displays so stunning. In a season when the plant life isn't as extensive, the Botanic Gardens still amazes tourists and Denverites alike. Don't miss their field of animated LED lights that respond to sound, making for a fun, interactive exhibit that adults and children can both enjoy. A great time to visit is for a live performance in the gardens. December 10th is their UltraSoniX show, and you can find more events on their website as well.
Looking for a festive event in Denver that will keep you moving? Head down to the Skyline Rink in downtown and practice your figure eights. Located at 16th & Arapahoe, skating here is free for everyone in the family if you have your own skates. If you need to rent, skate rentals run from only $6-8. It's the perfect activity for a date, outing with a friend, or the whole family.
If you're in the mood for some Christmas carols with a twist, head down to Arapahoe Street between 17th and 18th and check out the annual TubaChristmas Concert. This popular event has been a Denver staple since its beginning in 1976. The concert is produced by the University of Colorado Denver's College of Arts & Media and includes musicians of all ages. This free event takes place from 1-2pm on December 17th and is one of the most-celebrated holiday events in the city.
There is so much more to the holiday season than holiday shopping. Denver makes it easy to find holiday festivities all over the city with its variety of great events throughout December. Whether you're visiting or a local, you won't want to miss these holiday happenings.
---