October, 2017
The exciting city of Denver has many unique neighborhoods, each with its own style and character. The Highlands neighborhood is a very hip, up-and-coming neighborhood with a lively history and century-old buildings. A hub for many immigrant families, this neighborhood was the location of Denver's original Little Italy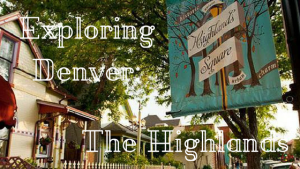 The Highlands neighborhood overlooks downtown, located about 2.5 miles northwest of it. The Highlands includes two distinct neighborhoods, Highland and West Highland. Together, as a region, they are called North Denver. This neighborhood is the largest in Denver, and encompasses three different commercial districts: Highlands Square, Tennyson Street, and Lower Highland (or LoHi).
The Highlands' history goes back to the 1800s when many Denver residents crowded the downtown area. In 1864 the Cherry Creek flood destroyed many areas of Denver and caused an influx of residents to move to the Highlands. The rich history of immigrants, particularly of Italian and Hispanic heritage, is still evident in the many family-owned restaurants serving traditional cultural cuisines.
Today in the Highlands, you'll find a family-friendly community full of small, hip, locally-owned shops. With a lively buzz on nights and weekends, the neighborhood is entertaining though still with a somewhat quiet and residential feel. The Highlands is very walker and cyclist-friendly, with the pedestrian Highlands Bridge and several bike trails in the area. Highlands square is a bustling area that includes boutique shopping and delicious food. Here are a few places to check out in the Highlands neighborhood:
EAT: Root Down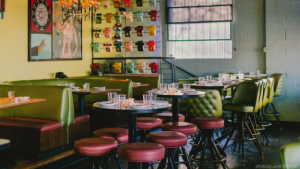 When exploring the Highlands, planning to brunch at Root Down is a must. This trendy restaurant is known for its hospitality and ethically-sourced, unique cuisine. Their aim is to connect the surrounding community to a dining experience in the same way that great ingredients are connected to food. Can't make it in for brunch? Make a reservation for dinner. You won't be disappointed — many of their dishes include seasonal vegetables from their two onsite gardens.
SIP: Williams and Graham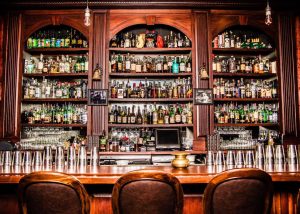 When first approaching William and Graham in the LoHi neighborhood of Denver, the "Williams and Graham Booksellers" sign may throw you off. This is precisely what this up-scale speakeasy wants. Enter through the bookstore facade, pass through a clever bookcase entrance, and you'll be pleasantly surprised to find the speakeasy's elegant bar and lounge area, full of leather and vintage touches to add to the 1920s feel. Visit for happy hour and taste one of their expertly crafted cocktails. Their popular Blackberry Sage Smash is a perfect way to unwind after a long day at the office.
DO: Sloan's Lake Park
After you've filled your stomach with the best the Highlands has to offer, you may crave some outdoor adventuring. Luckily this neighborhood is home to the tranquil Sloan's Lake Park, where you can catch stunning mountain views, take a relaxing walk around the lakeside path, or even try your hand at stand-up paddleboarding. With the largest lake in Denver and about 177 acres to explore, this park is worth a visit. Join the locals and tourists here on evenings to gaze at the sunset over the Rocky Mountains and Denver skyline. If you're lucky enough to be in the area in mid-summer, don't miss the Dragon Boat Festival held every year at the park!
The Highlands neighborhood is a great place for visitors and locals alike. There's always something to do, and it's a bit easier to relax here than it is in the center of downtown. Whether you're in the mood for a delicious meal, craft cocktail, great shopping, or outdoor exploring, the Highlands neighborhood really does have it all.
Washington Park has become one of the most popular neighborhoods in Denver, named, of course, after its large public park. Often referred to by locals as Wash Park, this area can be found in South Central Denver. Though its tree-lined streets are just minutes from downtown, Wash Park is far enough outside to maintain a residential neighborhood vibe that's a welcome escape from the busy city feel.
The area is split into two sections: East Wash Park and West Wash Park. In East Park, you'll find a family-friendly atmosphere. In West Park, you're likely to find a more hip feel, with a younger crowd and many popular bars and cafes. It's considered a very safe neighborhood, with one of the lowest crime rates in Denver.
The history of Washington Park itself began in 1889 when Reinhard Schuetze planned out the vast park in a grand Victorian style. The park was formed around an older Denver irrigation project from 1865. That project was called the Big Ditch or Smith's Ditch and was completed in 1867. This irrigation canal helped allow settlement and farming further away from the city's rivers. Smith's Ditch later became what is today known as Smith Lake, where Denverites can often be found fishing and boating. There are several hints at the park's history that can be found within it, including a 1913 boathouse which was designed by Jules Jacques Benois Benedict, a 1911 bathhouse, as well as the Eugene Field Cottage.
Wash Park's South Pearl Street has an interesting past as well. This street was home to Denver's first trolley car route which was built in 1893. The area was full of successful shops along this street that suffered during the stock market crash and Great Depression, but managed a revival after WWII as well as in the 70's. Today you can find unique shops, eateries, boutiques, as well music festivals and farmers' markets on historic South Pearl Street.
If you happen to spend some time in the Wash Park neighborhood, here a few things that you should have on your list:
GET OUTSIDE: Washington Park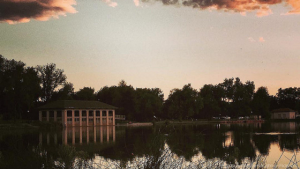 It goes without saying that the first thing you should do is spend time in the beautiful 161-acre park. This public urban park offers opportunities for exercise and exploration, including jogging, cycling, boating, fishing, volleyball, tennis, and even a visit to the flower gardens. The Mount Vernon Garden overlooks the lake and is a beautiful spot to relax and enjoy some stunning mountain views. Bike and boat rentals are available for use in the park if you don't have your own equipment, and there are two playgrounds for children to enjoy. Locals compare this gem of a park to Central Park in NYC.
EAT: Lucile's Creole Cafe
After you've gotten your exercise for the day at the park, it's time to fuel up on some exceptional brunch. While there are several delicious brunch spots in the area, Lucile's Creole Cafe has the unique taste of Louisiana-style foods. This popular spot is a family owned establishment named after the owner's mother, Lucile. The original and first location before expanding, was a small Victorian house in Boulder. They are known for tasty dishes like their Shrimp and Grits and Rice Pudding Porridge, which comes complete with raspberry sauce, currants, and cream. When stopping in for breakfast or lunch, be sure to try their beignets, which are New Orleans style donuts served hot and fresh.
VISIT: Denver Folklore Center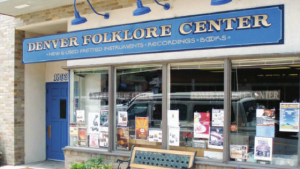 Once you're feeling well-fed, it's time to explore some of the interesting shops in Wash Park. One particular shop with a rich history is the Denver Folklore Center. This shop has been open since 1962, and, over time, has become the hub of the folk and acoustic music scene in Denver. This unique music shop has attracted well-known artists such as Bob Dylan and Pete Seeger. Settled on historic South Pearl Street, the DFC is full of a variety of stringed instruments. If you're looking for an original shop in Wash Park to explore, the Denver Folklore Center is a great stop to satisfy your musical curiosities.
As such a peaceful, family-friendly community, it's easy to see why many Denver residents choose to call Wash Park home. This neighborhood is full of charm and is a great escape from the busy downtown. Whether you live in Wash Park or are just visiting, it's a great neighborhood to spend a day relaxing and exploring.
There are many diverse neighborhoods within the buzzing city of Denver, each possessing its own unique charm. Lower Downtown, or LoDo as it's known to locals, is located in the heart of downtown Denver and has become a major hub for much of the Mile High City's entertainment.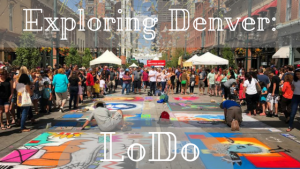 LoDo is the oldest neighborhood in Denver, with rich architecture and history that draws many tourists. It became a destination neighborhood largely due to its revitalization in the late 1980s and 1990s. After a zoning ordinance was enacted, many of the historic warehouse buildings were preserved, and many were transformed into trendy lofts, retail, and office spaces. Today in LoDo, you can expect to find a cultural neighborhood filled with edgy art galleries, a vibrant night scene, and innovative restaurants that rival those of the NYC food scene.
Here are a few spots in LoDo that are not to be missed:
Citizen Rail is a new restaurant in the LoDo neighborhood, serving delicious wood-fired fare. Its name was inspired by its neighboring train lines, as well as the idea of sharing food with the community. You can find this hotspot located in the lobby of the new Hotel Born Denver, in the happening Union Station neighborhood. They only recently opened their doors to the public in August 2017, but have already attracted a lot of attention in the LoDo foodie scene. With a custom wood-fired grill and an open kitchen concept, guests can sit at the chef's counter and watch each dish come together.
The space has a modern, rustic feel, which echos the style of food they serve – traditional wood-fired food, with modern experimental twists to keep customers pleasantly surprised. If you find yourself in LoDo at happy hour, visit Citizen Rail and explore the heated patio where they serve up unique cocktails like "Catch the Westbound", a pineapple rum cocktail that comes with a slice of grilled pineapple, or a plate of the Wood-Grilled Oysters, complete with cilantro garlic butter.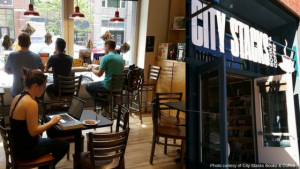 This place will satisfy your caffeine and reading needs. For those times when you need to sequester yourself in the stacks and explore new reading material, City Stacks is worth a visit. This family owned and operated bookstore has been gracing LoDo with its select literary choices and delicious lattes since 2014 when it opened. The selection of books is not overwhelming, but reflects the care that goes into curating them. The staff are very friendly and willing to help customers find what they need, including an array of small creative gifts they offer for your book-loving friends. This quaint bookshop cafe is a cozy spot to meet a friend for coffee or to get work done while enjoying a caramel vanilla latte.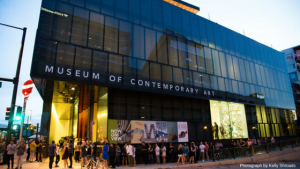 Like many other contemporary art museums, the Museum of Contemporary Art Denver, or MCA Denver, is sure to challenge and expand the minds of visitors. Here you can find art that experiments with different media and ideas – bending and twisting concepts, and creating meaningful dialogue about modern contemporary art. With a small admission fee of $8, the museum is open Tuesdays through Sundays and is a manageable space to visit and spend an afternoon. They don't have a permanent collection, but rather display rotating exhibits, so they are constantly changing and keeping things interesting for viewers. Although their exhibits are frequently geared towards adults, they often host creative educational events for youth and adults alike, engaging the community in contemporary art culture.
Aside from the three floors of art exhibits, MCA Denver even has an interactive space for kids called the Bubble Garden where families can enjoy an art installation together. If looking at contemporary art makes you thirsty, head up to the rooftop cafe where MCA serves coffee, delicious food and creative happy-hour cocktails. As if the rooftop view of the city and mountainscape weren't enough, they often have evening live music performances to check out as well.
The history and culture of the LoDo neighborhood makes it one of the most entertaining areas to spend your days in Denver. Come check out one of these spots and see for yourself why more and more visitors and locals alike are choosing to make LoDo their Denver destination.
---