September, 2017
Denver certainly isn't lacking in its bar scene! If you're looking for a great spot to enjoy an after-work drink, you have countless options. This city is home to numerous bars, all with their own unique personality and flair. You'll likely find some of the best food, drinks, and happy hours without having to go far from your office. Here are 5 places worth a visit: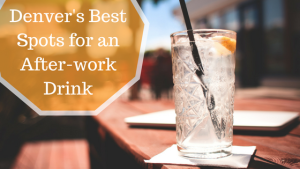 For interesting cocktails and fun twists on classic comfort food, check out The Corner Office in downtown Denver. It's a relaxed yet energetic place to unwind after work, and you'll likely be surrounded by many people doing the same. The food here is just as good as the drinks. If you plan to get dinner, they have a great menu of internationally inspired dishes.
This popular Denver bar in LoDo is bright yet cozy. It's a great place to stop by on your way home from the office, whether you're looking for a quick drink or a night out. With traditional bar seating and comfortable couches, it's perfect for relaxing or catching up with a few friends. If you find your name on their Name Night Calendar, you even drink for free!
If you haven't been to Brik on York yet, add it to your list of places to check out. Located in the Wyman Historic District on Colfax and York, they have a great happy hour Tuesday-Friday, frequent live music, and a very lengthy wine list. If you're in the mood for a glass of wine after a long day at the office, this is the place. The selection won't disappoint, and the atmosphere is perfect to let your brain unwind.
Whether you're looking for a good whiskey, craft cocktail, cold beer, or even a spiked milkshake, this bar in the Union Station North neighborhood is worth a visit. With an upbeat atmosphere, this bar is a great place for a casual business meeting or a social meetup. They also have a delicious menu, so if you're planning to get dinner and drinks, this is a perfect spot. Did I mention they have a rooftop bar? This could easily become a favorite hangout.
If you're in the LoHi neighborhood and looking for some inspired food and drink, stop by Candela Latin Kitchen. With a unique Latin American, Mexican, and Caribbean influence, their beverage and food menus don't disappoint. Feeling like you're ready for a tropical vacation after a tough day at work? Their Rum Room, with coladas, palomas, mojitos, and margaritas, will take you there.
Each of these spots has its own unique flair while offering some of the best after-work drinks in Denver. Whether you're looking for something elegant and contemporary or relaxed and casual, Denver has it all. With so many great bars, why not try something new the next time you go for an after-work drink and check out one of these great spots?
---