September, 2017
If you're looking for a place to sit and answer e-mails, meet with a coworker, or work on a project, Denver is brimming with cafes that offer the perfect atmosphere for productivity. Whether you're looking for a local roaster, trendy ambiance, or tasty pastries, there are countless options all over this city. Here are some of the best spots to find great coffee and the motivation you need to get work done.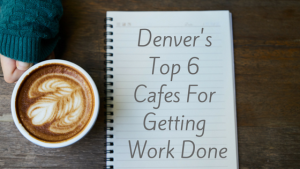 Located in Cherry Creek North, Aviano Coffee offers a trendy elegance and an open feel. Enjoy sitting on the patio when weather permits. Aviano is a highly rated cafe, and locals flock to it for its unique setting. Try their direct trade coffee and chai tea, as well as their delicious baked treats to keep you motivated!
Huckleberry is well-known in and around Sunnyside as a great coffee roaster. Easy parking makes Huckleberry a hassle-free work spot. You can take your pick of indoor and outdoor seating, and enjoy an espresso or a snack while you work. Chic yet minimalist, Huckleberry's atmosphere has an awesome local flare.
RiNo's CBD Cafe is a relatively new but popular spot to get work done. It's a beautiful space offering coffee, beer, and donuts. Check out their great donut flavors, like maple bacon, to reward your productivity. If you're looking for a unique spot to work with easy parking, you'll enjoy CBD Cafe.
This Platt Park hangout offers a unique atmosphere where you can get work done while enjoying ethically-sourced roasts. Set up on the patio for some fresh air or go inside to connect to an outlet and recharge. The large windows, garage doors, and great light give Steam Espresso Bar an open feel that will inspire you.
Check out this cafe for a comfortable, inspiring place to be productive. You can get a taste of high-end coffee drinks and delicious baked goods while working at the supersized co-working table. Purple Door Coffee also helps homeless teenagers and young adults by employing them and giving them the skills they need for employment, so it's a great place to support your community while you work.
This uptown venue is as unique and charming as it gets. Ride your bike here and park it out front on the bike racks. If your bike could use some maintenance, the bike shop can take care of it for you while you work. Whether your bike needs attention or not, this cafe is has a fun, relaxed vibe to help keep you feeling stress-free as you work.
Whether you work remotely or just need a break from the office, a change of pace accompanied by good coffee and a great atmosphere can help inspire productivity! These cafes are a few favorites on the seemingly endless list of cafes in this city.
Whether you're living in Denver or visiting, you probably know that beautiful natural scenery is always nearby. The gorgeous hiking and parks are often the first to catch our attention, but Denver is also home to two unique and beautiful botanic gardens. Each one is absolutely worth a visit.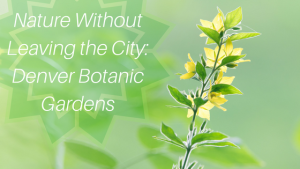 The botanic garden at York Street boasts 24 acres of gardens and collections. It has a unique landscape of both natural and contemporary design that is incredibly elegant. While walking around these gardens, you can find plant specimens from all around the world.
Not only does the York Street Botanical Garden offer an amazing variety of lush plants and flowers, but it also offers the Mordecai Children's Garden. In this special garden designed for kids and families, visitors get to play in nature and observe new scenery with the change of the seasons.
The botanic garden at York Street also features the standout Science Pyramid where guests can take a closer look at the ongoing research taking place at the gardens. You can enjoy a tour year round, and you can even book special events.
Chatfield Farms can be found nestled upon the banks of Deer Creek in southern Jefferson County. This 700-acre native plant refuge and working farm offers breathtaking scenery with plenty to explore: a restored dairy barn and silo from 1918; the 1874 Deer Creek Schoolhouse; 2.5 miles of nature trails; Deer Creek Discovery children's play area; and beautiful wildflower gardens.
Chatfield Farms has become known as a great spot for bird watching, and many guests bring binoculars. The butterfly gardens also offer another tranquil space with beautiful views.
Check out the website for both gardens for more information on admission, parking, directions, and more.
Each garden offers a unique experience. The gardens at York Street are a more traditional garden experience with many types of fauna from around the world. At Chatfield Farms you get to see native vegetation in the setting of a working farm. I recommend visiting both gardens to see for yourself what they have to offer!
Vibrant, liberal, artistic and welcoming, the capital of Colorado has enjoyed considerable growth and popularity over the last decade. So much so that almost a thousand people choose to settle in the Mile-High City every month. With so many amazing things to see and do, it can be tough to decide how to spend your free time. The Denver Art Museum is definitely worth checking out (probably more than once!). The beautiful museum houses amazing collections of artwork and has a steady rotation of interesting exhibits. Whether you're thinking of having an afternoon to yourself, spending time with a friend, or taking the whole family, visiting this museum is a great way to spend the day.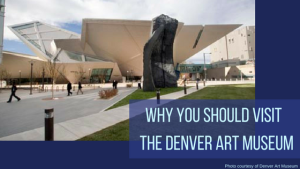 What is the Denver Art Museum?
This eclectic museum is known not only for its vast collection of artwork but also for itself being a masterpiece of architecture.
The Denver Art Museum has had numerous homes since its inception as the Denver Artists Club in 1893. It is an architectural monument composed of two different buildings. The North Building, inaugurated in 1971, has several floors and is covered by more than one million bright grey tiles. It was designed by the famous Italian architect Gio Ponti in collaboration with James Sudler Associates of Denver. The Frederic C. Hamilton wing, inaugurated in 2006, connects to the North Building via a bridge. This section was designed to reflect the peaks and rock formations of the surrounding mountains. It was created jointly by the renowned architect Daniel Libeskind and the Denver-based architects firm Davis Partnership Architects.
Variety
The Denver Art Museum houses around 70,000 works of art, with historic and modern works from various continents. The museum houses the world's largest Native American art collection in the North Building, and you'll also find African, Asian, European, American, and other beautiful collections throughout the museum. There are many interesting exhibitions of paintings, sculptures, furniture, silver, ceramics and pre-Columbian decorative works. Check out the gallery's website to find out about current exhibitions.
Something for everyone
The museum also welcomes families in its gallery, where younger ones will find many activities to enjoy such as crafts and interactive exhibits. During the weekends and school days, you can visit the Family Activities Cart near the entrance of the museum to find out about the activities available.
More than a museum
The museum's store offers engravings, books, jewellery and handmade objects by local artists. The museum has three restaurants within its facilities. At the Callahan Café you'll find tea, coffee, pastries, wines, and cheeses; at Mad Greens Inspired Eats you'll find salads, soups, and sandwiches; and at the Palettes restaurant you can sit down to a full three course meal.
Easy to get to
The Denver Art Museum is located at 100 W 14th Avenue Parkway in Denver. You can easily reach the museum by public transportation or by car. The museum, located in the Civic Center, has nearby parking, and you can also take a shuttle bus into the 16th Street Mall shopping area.
There is so much to see in this museum that it can easily become a favorite place to visit. With the variety of temporary exhibits, it feels as though there is always something new to enjoy. Whether you want to spend a few hours immersed in incredible artwork or an entire day learning with your kids, this is the perfect museum to visit.
---